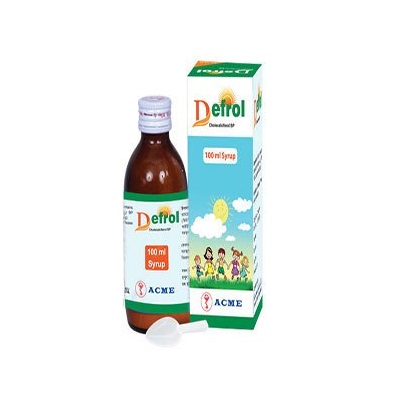 Defrol 100ml
100ml Syrup. Manufacturer/Distributor: Acme Laboratories Limited. Generic Name: Cholecalciferol

Categories: Bone Metabolism
Generic: Cholecalciferol (Vit. D3).
Brand: Acme Laboratories Ltd.
Type: Syrup
Pack Size: 1S
Vitamin D3 deficiency can occur in people whose exposure to sunlight is limited and in those whose diet is deficient in Vitamin D3. Vitamin D3 is essential for the effective calcium and phosphate absorption required for healthy bones and teeth, preventing rickets, osteomalacia and osteoporosis. Vitamin D3 is important during pregnancy and breastfeeding, an essential nutrient for a growing infant. It is also essential to prevent preeclampsia during pregnancy. Vitamin D supplementation in
prediabetes reduced progression to type-2 diabetes.
Dosage:
1000 IU (1 tablet) daily, or as directed by physician. Take the medicine with food or within 1 hour after a meal.
OR AS DIRECTED BY THE PHYSICIAN.
Side effects:
Occasional acute symptoms include anorexia, lassitude, nausea & vomiting, diarrhea, constipation, weight loss, polyuria, sweating, headache, thirst, vertigo, and raised concentrations of calcium and
phosphate in plasma and urine.
Contraindications
Vitamin D3 is contraindicated in all diseases associated with hypercalcaemia. It is also contraindicated in patients with known hypersensitivity to Vitamin D3 (or medicines of the same calls) and any of the excipients.
Precautions
Plasma-calcium concentration should be monitored at intervals in patients receiving high doses of Vitamin D3 in renal impairment, and during pregnancy & lactation. People using Digoxin and Thiazide Diuretics should consult a health care practitioner before supplementing with Vitamin D3. People with liver or kidney disease, primary hyperthyroidism, lymphoma, tuberculosis and granulomatous disease should consult a health care practitioner before supplementing with Vitamin D3.
Use in Pregnancy & Lactation
Pregnancy: Vitamin D3 needs are increased during pregnancy. Vitamin D3 deficiency during pregnancy can affect bone development and
Also Purchased
There is no review for this product!