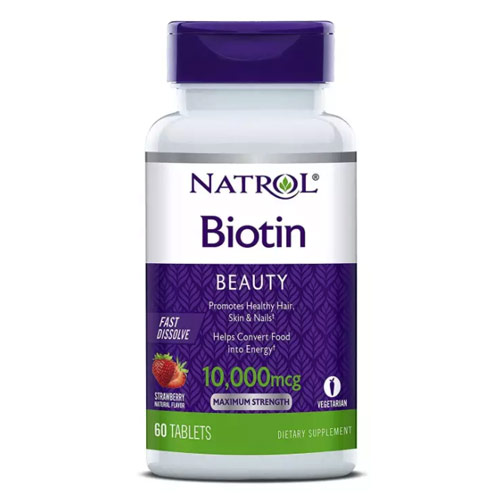 Natrol Biotin Beauty Tablets, Promotes Healthy Hair, Skin & Nails, Helps Support Energy Metabolism, Helps Convert Food Into Energy, 10,000mcg, 60Count - USA
৳2600 (Per Unit)
PROMOTES HEALTHY HAIR, SKIN & NAILS – Restore the health of your hair, radiance of your skin and strength of your nails with Natrol Biotin, an important B Vitamin that has long been known as a key element in maintaining healthy hair, skin and nails.
INCREASE ENGERY – Biotin, a B vitamin also known as vitamin H or B7 helps support the metabolism and assists in the conversion of food into energy.
ADVANCED FORMULATION – Natrol's unique fast dissolve tablet enables faster absorption and can be taken anytime, anywhere. No water needed.
GREAT TASTE - The beauty supplements great tasting strawberry flavor is 100% vegetarian and is fast-acting and perfect for those that have a hard time with swallowing vitamins.
Biotin, a water-soluble B vitamin, acts as a coenzyme in the metabolism of proteins, fats, and carbohydrates. Biotin is also known as vitamin H or B7 and not only helps to promote radiant skin, strong nails and heathy hair, but also aids in the conversion of daily food intake into natural energy.
Clinical studies indicate that those with deficiencies of biotin can experience brittle nails and hair loss. By taking Natrol Biotin daily, you can improve strength of nails, healthy hair and radiant skin. Biotin supports the growth of cells and production of fatty acids which can increase the bulb size of hair follicles, which helps to make hair appear fuller and thicker.
These statements have not been evaluated by the Food and Drug Administration. This product is not intended to diagnose, treat, cure or prevent any disease.
Safety Warning
Consult your healthcare professional prior to use if you have or suspect a medical condition, are taking prescription drugs, or are pregnant or lactating. People with allergies to wheat or corn should consult their healthcare professional before taking this product.This product is labelled to United States standards and may differ from similar products sold elsewhere in its ingredients, labeling and allergen warnings
Indications
Supports Hair, Skin and Finger Nails growth
Legal Disclaimer
This product is not intended to diagnose,treat,cure pr prevent any disease.
Statements regarding dietary supplements have not been evaluated by the FDA and are not intended to diagnose, treat, cure, or prevent any disease or health condition.
Ingredients
Biotin, Xylitol, Cellulose Gum, PVP, Natural Strawberry Flavor, Beet Root Powder, Malic Acid, Silica, Stearic Acid, Magnesium Stearate, Citric Acid, Maltodextrin, Modified Food Starch.
Directions
Follow usage directions on label.
Also Purchased
There is no review for this product!