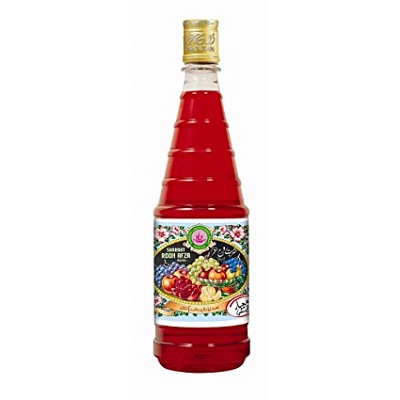 Rooh Afza 750ml Sharbat
750ml Bottle. Heavenly Elixir and The best moniker Sharbat Rooh Afza
নির্দেশনাঃ সাধারণ দুর্বলতা, অবসন্নতা, অস্থিরতা, মাথা ঘোড়া, মাথা ঝিম ঝিম করা, গরমে মূর্ছা যাওয়া, বমি বমি ভাব, নিস্তজতা, বুক ধড়ফড় করা, উচচ রক্তচাপ, বুকে ব্যথা, মাংস পেশীর খিঁচুনি, প্রস্রাব কমে যাওয়া ও জালা পোড়া, ডায়রিয়া, দেহে মৌলিক উপাদানের ঘাটতি, ভিটামিনের ঘাটতি, বদ হজম, টক ঢেকুর, পেট ব্যথা, পানি স্বল্পতা, তীব্র পানি পিপাসা, শরীরের তাপমাত্রা বৃদ্ধি ।
Categories: Herbal
Brand: Hamdard
Type: Bottle
Pack Size: 1S
Rooh Afza is more than a cold drink. It is a blend of pure crystalline invert sugar, distillate flowers, distilled extract of fruits, vegetables and cooling herbal ingredients. Rooh Afza's cooling effect is long lasting for not only instantly quenches the thirst but also replaces the loss of body fluids and provides extra energy for vital organs like brain, heart and liver. Rooh Afza protects heat exhaustion, sun stroke & dehydration. It maintains nutritional status and electrolyte balance of the body. It is effective in nausea, loss of appetite, indigestion, insomnia & fever due to heat exposure. It keeps the body fresh, active & energetic when the heat begins to get you down. Rooh Afza increases the blood calcium & iron level and strengthens bones & muscles. Rooh Afza is a non-alcoholic and non-carbonated popular drink.
Health benefit
» Dehydration
» Heat exhaustion and heat stroke
» Fever due to heat exposure
» Vomiting, diarrhoea and cholera
» Stomachache
» Mental exhaustion, fatigue, giddiness
» Anaemia
» Nutrition deficiency
» Cardiac complication
Dosage & Direction: 2 table spoonful Rooh Afza mixed with 200ml ice cold water and takes it as and when required.
Contraindication: There is no known contraindication.

Side effect: No significant side effect has been observed in proper dosage.

Precaution: Keep out of reach of the children.

Storage: Protect from light. Keep in cool & dry place. Shake well before use.

Presentation: 750ml and 300ml in PET bottle.
Also Purchased
There is no review for this product!