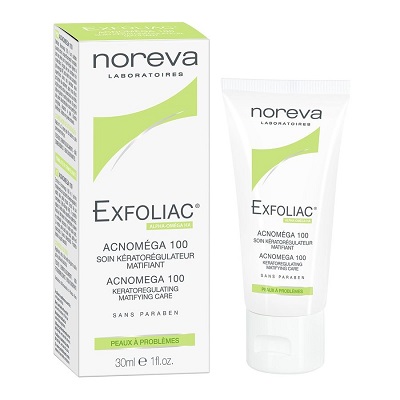 Noreva Exfoliac Acnomega 100 Cream 30ml
৳1300 (Per Unit)
Type: 30ml Cream. Noreva Exfoliac Acnomega 100 Soin Keratoregulating Matifying. Manufacturer: Noreva Ltd. Made in France. 

Categories: Skin Care
Type: Tube
Pack Size: 1S
EXFOLIAC Acnomega 100 keratoregulating matifying care is the leading kerato-active cream for skin with slight or new blemishes, unclogging pores and maintaining the normal thickness of the epidermis.

It acts on the superficial and deeper layers of the epidermis, generating a significant kerato-active effect combined with sebum-regulating and anti-bacterial action.
Blemishes are erased leaving the skin smooth and clear.
Alpha and Omega HA: optimised kerato-active effect on the superficial and deeper layers of the epidermis for optimum tolerance and an adapted pH
Paraben-free
No preservatives
Non comedogenic
Well-tolerated
How to use:
Apply morning and night on dry skin, previously cleansed with EXFOLIAC Gel Moussant.
Can be used alone or with medical treatment.
Also Purchased
There is no review for this product!