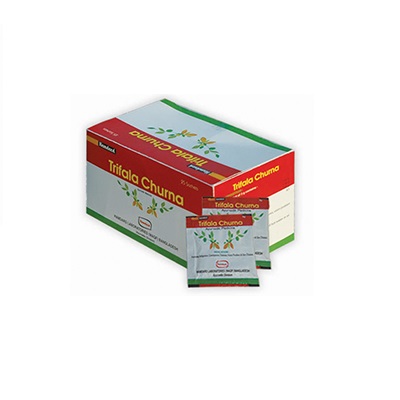 Trifala Churna(Box) 25 Sachet
TRIFALA CHURNA. Effective in constipation, indigestion and anorexia

Categories: Herbal
Brand: Hamdard
Type: Sachet
Pack Size: 25S
Trifala Churna is the combination of Emblic Myrobalan (Phyllanthus emblica), ChebulicMyrobalan (Terminalia chebula) & Belleric Myrobalan (Terminalia bellerica ). It is highly effective in indigestion, diabetes, constipation and anorexia. It is a tonic for all vital organs of the body.
Indications:

» Constipation
» Anorexia
» Indigestion
» Diabetes
» Skin diseases
» Hypertention
» Blood impurities
» Hypercholesterolaemia
Dosage & Administration: 1 sachet 2-3 times daily with 1 cup of hot water or as prescribed by the physician.
Contraindication: There is no known contraindication.
Side effect: No significant side effect has been observed in proper dosage.
Precaution: Keep out of reach of the children.
Storage: Protect from light. Keep in cool & dry place. Shake well before use.
Presentation: Box containing 25 Sachets.
Also Purchased
There is no review for this product!