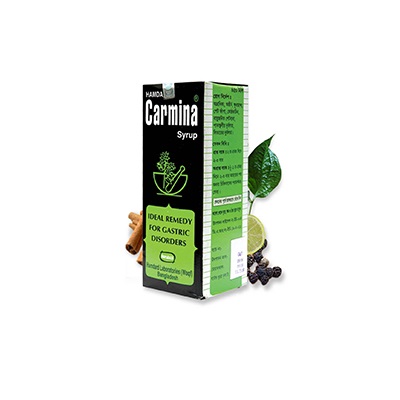 Carmina 450ml Syrup
450ml SYRUP CARMINA. A herbal remedy for stomach unrest.
রোগ নির্দেশনা ঃ বদ হজম, পেট ফাপা, অজীর্ণ, ক্ষুদামান্দ্য, বায়ু জনিত পেটব্যথা, অম্লাধিক্য, কোষ্ঠকাঠিন্য, লিভারের দুর্বলতা, বমি বমি ভাব, চুকা ঢেকুর, বুক জালা পোরা ।
Categories: Herbal
Brand: Hamdard
Type: Syrup
Pack Size: 1S
Carmina is a special formulation of time tested natural ingredients that helps to control acidity, flatulence and indigestion. Carmina helps in toning up the mucosa of the stomach and brings about a well tolerated balance between liver functions and gastric activities. Carmina is a safe and effective remedy for everyday stomach discomfort for the entire family.
Indications:
» Hyperacidity
» Flatulence
» Abdominal pain due to gases
» Indigestion
» Constipation
» Stomach and liver disorders
» Nausea and Vomiting
» Loss of Appetite

Dosage & Administration: Syrup- Adults: 2 teaspoonfuls 2-3 times daily.
Children: 1 teaspoonful 2-3 times daily or as prescribed by the physician.
Hyperacidity: 2 teaspoonfuls syrup before meal; 
Flatulence: 2 teaspoonfuls syrup after meal; 
Abdominal pain: 2 teaspoonfuls syrup with luke warm water. Repeat the dose after one hour if pain persists; Acute indigestion: 2 teaspoonfuls syrup; Chronic indigestion: 1-2 teaspoonful(s) syrup before and after each meal; Loss of appetite: 1-2 teaspoonful(s) syrup after breakfast. 1-2 teaspoonful(s) syrup before each meal with water; 
Constipation: 2 teaspoonfuls syrup at bed time with luke warm water; Stomach & Liver dysfunction: 2 teaspoonfuls syrup immediately before meal twice daily; Nausea and Vomiting: 1-2 teaspoonful(s) syrup. Tablet should be sucked slowly.

Contraindication: There is no known contraindication.

Side effect: No significant side effect has been observed in proper dosage.
Also Purchased
There is no review for this product!