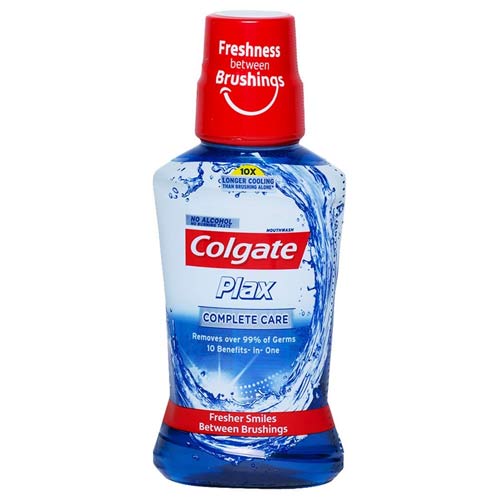 Colgate Plax peppermint fresh Mouthwash 250ml
৳250 (Per Unit)
Alcohol-free mouthwash provides complete oral care with 10 benefits in 1

Removes over 99% of germs that cause bad breath and cavities

Helps prevent cavities with Fluoride

Fights germs and prevents plaque build-up, also providing healthier gums

Cleans hard to reach places to provide 24/7 bad breath control

made in Thailand

Categories: Hygiene
Brand: ACI Limited
Type: Others
Protect your mouth from germs and get fresh, clean breath every morning with Colgate Plax Complete Care Mouthwash. It provides an all-round protection with 10 benefits in 1 and is proven to strengthen enamel, provide fresh breath, prevent cavities, protect your gums, prevent plaque build-up and fight germs.
Colgate Plax Complete Care Mouthwash also removes over 99% of bad breath causing germs in your mouth, for a fresher and cleaner mouth than brushing alone. It gives 10x longer cooling sensation than brushing alone providing cleaner mouth and is alcohol-free so you experience no burning sensation, just fresher smiles between brushings!
Make Colgate Plax a part of your daily oral hygiene. Use it twice a day after brushing, for cleaner, fresher and healthier gums vs. brushing alone.
Also Purchased
There is no review for this product!