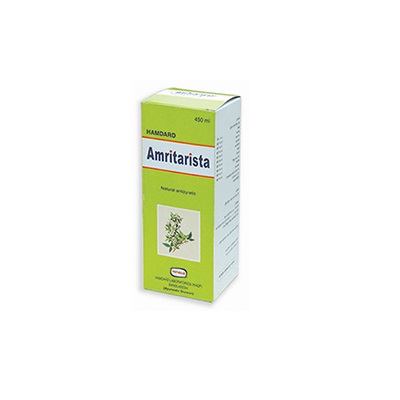 Amritarista 450ml Syrup
450ml HAMDARD AMRITARISTA. Natural medicine for fever.
রোগ নির্দেশনাঃ জ্বর, দীর্ঘমেয়াদি জ্বর, লিভার ও প্লীহার বৃদ্ধি, জন্ডিস, প্রস্রাবের জালাপোড়া, রক্ত দূষণ, মুত্রনালির সংক্রামণ ।
Categories: Herbal
Brand: Hamdard
Type: Syrup
Pack Size: 1S
Hamdard Amritarista prepared with Moon Creeper (Tinospora cordifolia), Black Nightshade (Solarium indicum) and other valuable natural medicinal ingredients. It is effective in acute and chronic fever, excessive thirst and also effective in the treatment of the enlargement of liver and spleen. It helps to relieve burning urination, urinary tract infection and oliguria.
Indications:

» Fever
» Chronic fever
» Enlargement of liver and spleen

Dosage & Administration: Adults     : 2-4 teaspoonfuls 3 times daily.
Children : 1/2-1 teaspoonful 3 times daily after meal or as prescribed by the physician.
Contraindication: There is no known contraindication.

Side effect: No significant side effect has been observed in proper dosage.

Precaution: Keep out of reach of the children.

Storage: Protect from light. Keep in cool & dry place. Shake well before use.

Presentation: Amber glass bottle containing 450ml syrup.
Also Purchased
There is no review for this product!