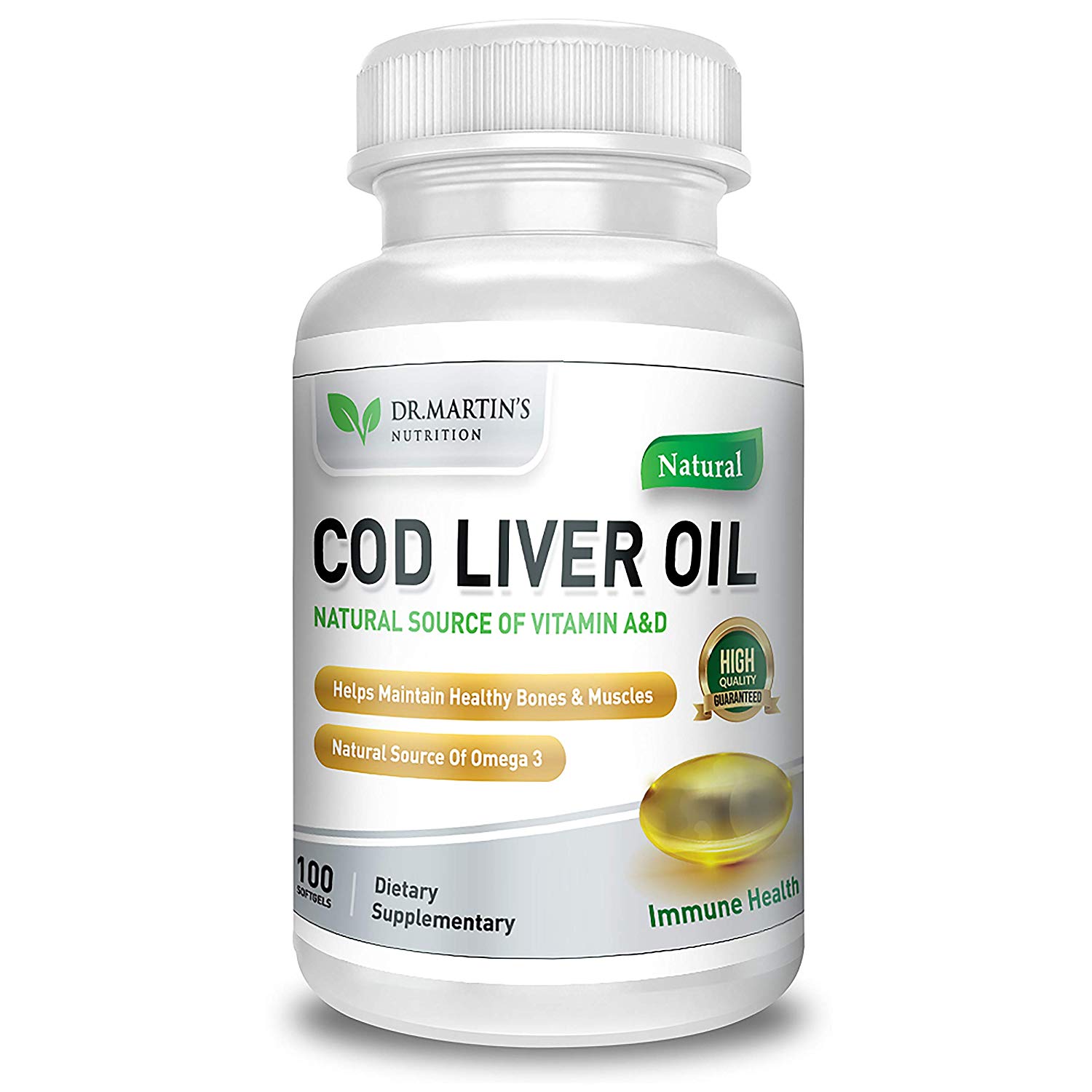 Dr. Martin's COD LIVER OIL Natural Source Of Omega 3, Triple Strength Best Immune Health, Healthy Bones & Muscles - USA
৳2750 (Per Unit)
Dr. Martin's Cod Liver Oil supplements made from 100% natural Norwegian fish. 
1 softgel of Natural Cod Liver Oil contains 415mg of Cod Liver Oil and 37mg of EPA and 36mg of DHA. 
Supports cardiovascular health, may help to curb joint pain & stiffness, and may help to fight disease & inflammation.
Helpful for skin problems including Acne, Eczema, and Psoriasis.
100% safe dietary supplement
Made in USA
Categories: Food Supplement
Generic: Cod Liver Oil
Type: Capsule
Pack Size: 100s
Cod Liver Oil has traditionally been one of the most popular natural source of Vitamins A&D. Vitamins A&D help maintain bones, as well as a healthy immune system. Vitamin A assist in many other functions such as eyesight and skin maintenance.

Fish Oil is widely seen as beneficial for:
High triglyceride levels
Heart disease
Atherosclerosis
As an anti inflammatory
Particlarly helpful for skin problems including: Acne, Eczema, and Psoriasis
SUPLEMENT FACTS:

Serving Size 1 Softgel
Amount Per Serving % Daily Value
(From Cod Liver Oil) 1,250 IU - 25%
Vitamin D (From Cod Liver Oil) 135 IU - 34%
NORD-GOLD PREMIUM
Cod Liver Oil - 415mg
(Provides 90 mg of Omega-3 Fatty Acids compositing at)
EPA (Eicosapentaenoic Acid) - 37mg
DHA (Docosahexaenoic Acid) - 36mg
OTHER INGREDIENTS:
Cod Liver Oil
Gelatin
Glycerin
(COD) ingredients
DIRECTIONS:
Adults take 1 to 2 softgels daily, preferably with food or as directed.

PLEASE NOTE:
These statements have not been evaluated by the Food and Drug Administration. This is not intended to diagnose, treat, cure or prevent any disease.

WARNING:
If you are pregnant, nursing or taking any medications, consult your doctor before use.
KEEP OUT OF REACH OF CHILDREN.
STORE IN A COOL DRY PLACE.
Also Purchased
There is no review for this product!