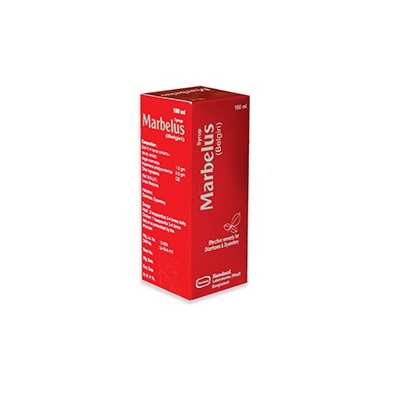 Marbelus 225ml Syrup
225ml SYRUP MARBELUS® (BELGIRI). Marvelously cures diarrhoea, dysentery and disturbance of digestive system.
ডাইরিয়া, অ্যামিবিক ডিসেন্ট্রি(অ্যামিবা জনিত আমাশয়), ব্যাসিলারি ডিসেন্ট্রি, পরিপাকতন্ত্রের প্রদাহ, বদ হজম, পেট ফাপা, পেপটিক আলসার, অম্লাধিক্য জনিত সমস্যা ।
Categories: Herbal
Brand: Hamdard
Type: Syrup
Pack Size: 1S
Marbelus is a unique combination of Bael (Aegle marmelos) fruit and Connessi (Holarrhena antidysenterica) bark, which is highly effective in diarrhoea, dysentery (Amoebic & Bacillary dysentery), giardiasis and helminthiasis. Marbelus relieves drug induced gastrointestinal troubles. Marbelus acts against various pathogenic microbes such as bacteria like Shigella sp., Escheriachia coli, Salmonella sp., etc. parasites like Entamoeba histolytica, Giardia lamblia and some worm's like Ascaris lumbricoides, Ancylostoma duodenale, Taenia solium etc. Marbelus is well tolerated & safe for both children & adults.

Indications:
» Diarrhoea
» Amoebiasis (Amoebic dysentery)
» Shigellosis (Bacillary dysentery)
» Giardiasis
» Irritable bowel syndrome (IBS)
» Gastroenteritis
» Peptic ulcer
» Flatulence
» Indigestion
» Hyperacidic complications
Dosage & Administration: Adults: 2 teaspoonfuls 3-4 times daily. Children: 1 teaspoonful 3-4 times daily or as prescribed by the physician.
Contraindication: There is no known contraindication.
Side effect: No significant side effect has been observed in the therapeutic dosage.
Precaution: Keep out of reach of the children.
Storage: Store at cool and dry place, protect from light.

Presentation: Amber bottle contains 100ml & 225ml Syrup.
Also Purchased
There is no review for this product!