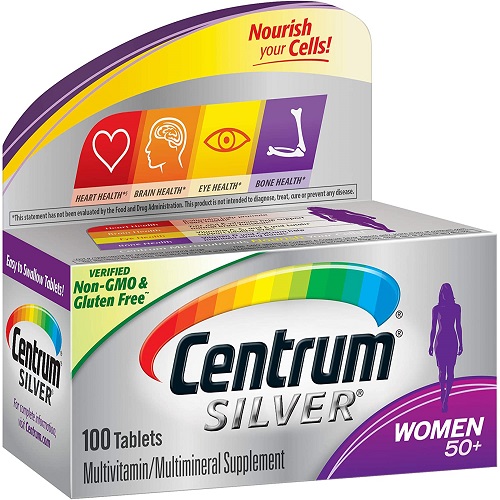 Centrum Silver Multivitamin for Women 50 Plus, Multivitamin/Multimineral Supplement with Vitamin D3, B Vitamins, Calcium and Antioxidants, 100 Tablets, USA
Includes 65 tablets of Centrum Silver women Multivitamin / Multimineral Supplement, Age 50+
Age-adjusted to support the health of women age 50+ and to help support the heart, brain and eyes
The most complete multivitamin, with Centrum's highest levels of Vitamin D3 to support muscle function
Doctor and pharmacist recommended brand for multivitamins
Magnesium, Vitamins D and B6 help support muscle function
Specially formulated to support heart, brain, eyes and muscle functions in women
Centrum®Silver®Women is personalized for women and has micronutrients to feed your cells and help support bone health as well as theheart,+§brain°and eyes.‡*As women age, it becomes more important to reach the recommended daily allowance of vitamin D and calcium to help maintain bonestrength.*Centrum®Silver®Women is now verified non-GMO and gluten free. To learn more, visit ournon-GMO standard page.
Centrum®is backed by 40 years of nutritional science to bring you the most complete multivitamin. Plus,Centrum®Silver®Women multivitamins have a smooth coating that's easy to swallow.
Most recommended. Most studied. Most preferred.
Also Purchased
There is no review for this product!