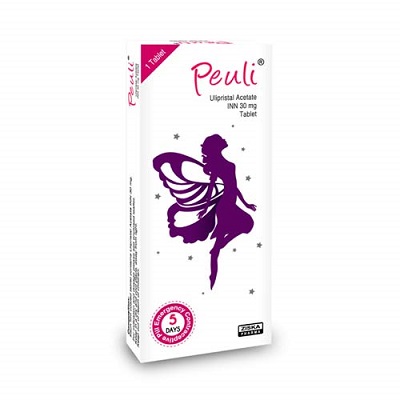 Peuli Emergency Pill
Type: Tablet. Generic Name: Ulipristal Acetate (For emergency contraception)30 mg. Manufacturer/Distributor: Ziska Pharmaceuticals Ltd
Categories: Birth Control Pill
Generic: Ulipristal Acetate
Brand: Ziska Pharmaceuticals Ltd.
Type: Tablet
Emergency contraception is a rescue method which is aimed to prevent fertilization in case of unprotected intercourse. This contraception is used within 120 hours (5 days) after unprotected intercourse or a known or suspected contraceptive failure, particularly

If you have had a sexual intercourse whereas either yourself or your partner did not use a contraceptive method
If you have forgotten to take consecutive 3 regular contraceptive pills
If your partner's condom has broken, slipped or been improperly removed or if he has forgotten to use it
If you fear that your intrauterine device has been expelled
If your vaginal diaphragm or your contraceptive cap has moved or if have removed it too easily
If you are afraid that the method of coitus interruptus has failed or if you have had sexual intercourse during the period when you are supposed to be fertile while using the rhythm method
In the event of rape
Dosage: One tablet (30 mg) should be taken orally with a glass of water.
Side effects: Undesirable effects which have been observed are:
Nausea and vomiting
Dizziness, fatigue, headache
Abdominal pain
A feeling of breast tenderness
Bleeding can occur after taking this medicine
Also Purchased
There is no review for this product!